Types of Braces at ACORTHO
We offer different types of braces to ensure that we can find the treatment that is right for you.
The 3 main types of orthodontic appliances we offer are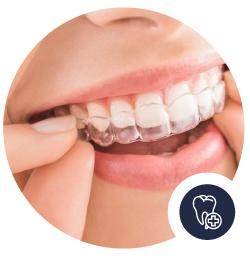 Clear Aligners
Invisalign® & Invisalign Teen® are a clear aligner system that uses custom-made thermoplastic aligners that gradually move your teeth to their proper positions. These aligners are designed through 3D computer technology to ensure optimal results. Because clear aligner therapy is a nearly invisible way to align your teeth, it is a very popular treatment among older teens and adults who would like a more discreet treatment option.
Metal Braces
This is the most common type of braces. Metal braces are made of high-grade stainless steel, and thanks to advances in technology and materials, metal braces are now smaller, more comfortable, and more attractive than ever before. We offer advanced self-ligating systems as well as traditional braces. And best of all, patients love selecting colors at every appointment to decorate their braces!
Ceramic (Clear) Braces
Ceramic braces are made of a translucent material that is virtually clear. This makes them popular among our patients who are interested in maintaining a more natural-looking aesthetic during treatment, but are not candidates for Invisalign®. Like our advanced metal bracket systems, our ceramic braces also use active self-ligating technology.
During your initial visit with Dr. Michael Chung, we will help you determine which type of appliance would best meet your personal needs and preferences. For more information and to schedule your consultation, call us today in Freehold, New Jersey.