Advanced Center For Orthodontics
Braces and Invisalign for Children and Adults
Choosing the right orthodontist is an important decision for you and your smile
Welcome to Advanced Center For
Orthodontics
Choosing the right orthodontist is an important decision for you and your smile. Dr. Michael Chung and team at Advanced Center for Orthodontics strive to provide the best possible orthodontic treatment, while using the most advanced treatment techniques, such as Invisalign® and self-ligating braces. Our goal is to make your experience fun, relaxing and affordable.
We want you to feel comfortable and knowledgeable about your orthodontic treatment and about our practice. Please use our web site as a tool to learn more about orthodontics & our state-of-the-art offices. When you are ready to schedule your complimentary consultation, or if you have any questions, please give us a call. We'll do our best to give you, and your smile, the special treatment you deserve!
ADVANCED CENTER FOR ORTHODONTICS
Life-Changing
Results

Beautiful Smiles
Our offices have served Monmouth County for over 20 years, and we are happy to continue serving families when providing orthodontics in Freehold and Manalapan, NJ, as well as the surrounding communities of Millstone, Howell, Colts Neck, Marlboro, and Old Bridge, NJ.
We offer traditional braces as well as some of the newest orthodontic technologies, including Invisalign® and Invisalign Teen® clear aligners, iTero Element® intra-oral scanning, Aarhus System TADs, & PROPEL® orthodontics. You can feel comfortable and informed when you visit our offices for orthodontic treatment. Call us today to schedule a complimentary consultation or second opinion.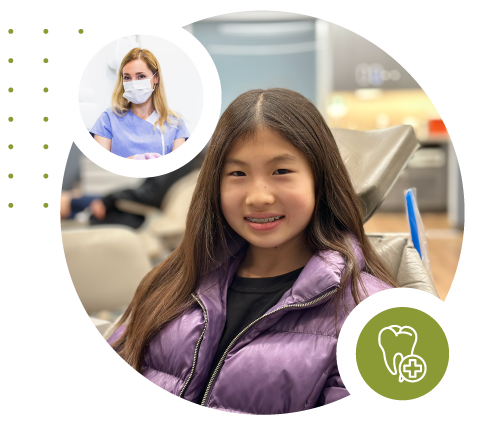 Beautiful straight teeth you've always wanted
You wear each set of aligners for 2 to 3 weeks, removing them only to eat, drink, brush, and floss. As you replace each aligner with the next in the series, your teeth will move – little by little, week by week – until they have straightened to the final position your doctor has prescribed. You'll visit us about once every 8 weeks to ensure that your treatment is progressing as planned and to receive the next set of aligners.
Invisalign® treatment is not recommended for everyone, so please schedule a complementary consultation to see if Invisalign® is right for you. Even if you aren't a candidate for Invisalign® treatment, our doctors can recommend a cosmetic alternative, such as clear, ceramic braces.
Dr. Michael Chung offers this system of aligners because they have many benefits, being clear, comfortable, and removable. Contact Advanced Center for Orthodontics if you want to learn more about Invisalign® in Freehold, New Jersey.
"I truly can't say enough about Dr. Chung & his staff! The office is clean, the staff is friendly, & extremely helpful, & Dr. Chung is very up to date on orthodontic procedures. My son completed his 1st phase of braces in less than a year, & he is already more confident with his teeth & smile."
"All my three sons have been patients of Dr. Chung and our experience has been wonderful. The staff and Dr. Chung were always very accommodating and knowledgeable. We always speak of the office in high regard and recommend them to our friends and family. My kids' smiles are beautiful and we couldn't be more appreciative and grateful. Dr. Chung and staff are a great group of people and we wish them all great success in the future."
"We just moved to the area and I found Dr. Chung. I was so happy that my kids felt so comfortable with him. He took the time to discuss treatment plan options and show us what was involved. Everyone in the office has been so welcoming, friendly, and accommodating. I would definitely recommend them!!"
"After investigating several orthodontists for our two children, we chose Dr. Chung. Dr. Chung took the time to explain the treatment plans he recommended and supported his plans with medically sound reasoning. We felt that Dr. Chung took the time to examine our children as individuals, not just as another patient(s). He represented a conservative approach and took into account the lifestyles of teenagers. The office is very modern, clean and efficient. His staff is very organized and helpful. We will be here for years and are very happy with our choice!"
"We are so happy with the staff and the care our daughters have received at Advanced Orthodontics. We never have a problem making appointments that fit into our schedule and the friendly office staff never keeps us waiting. Our youngest daughter had some special issues with her teeth and Dr. Chung has been so helpful every step of the way – from detection of the problem, to recommending an oral surgeon and then post surgery treatment to correct the problem. He makes both the parents and patients feel secure and comfortable in his care. We can't wait to see the results of his work!"
"This is my second child that has been to this office. I was extremely happy with the way my daughter's teeth looked after her braces, so we came back for my son. Dr. Chung and all the dental assistants are gentle. They are patient, caring and compassionate. My kids have never had an assistant that they didn't like. They take their time with their patients. Sandy and Judy are also one of the reasons I came back. They are always very pleasant to deal with it. Whenever I walk into the office, they have a smile on their faces and greet us by our first names. They are accommodating when making or changing appointments. It is very rare to have such an all around awesome staff. I would highly recommend this office to anyone seeking orthodontic care."
"We have been coming to Advanced Center for Orthodontics for about 7 years now. My two older children have perfect smiles thanks to Dr. Chung. He is very knowledgeable and kind. The office staff (especially Sandy and Judy) is wonderful and always so pleasant to speak with. My youngest is halfway through her orthodontic experience and her teeth have already improved so much! I would recommend Dr. Chung and his staff to anyone!!"
"I would definitely rate Advanced Center for Orthodontics on a scale from 1 to 10 a 10! It has been a great experience for my son Michael to be under the care of Dr. Chung and his staff for the course of the past 2 years. Professionalism, compassion, and great results are #1."
"We would highly recommend Dr Chung. 2 of my children are former patients, and my 3rd is in braces now, and their teeth look absolutely perfect. My daughter is complimented all the time on what a pretty smile she has! The office staff couldn't be nicer."
"At Advanced Center for Orthodontics they are true professionals. They are always so accommodating to your needs. Dr. Chung has the patience of a saint, Judy & Sandy are truly the nicest two people we have ever met. They treat my family like one of their own. My 3rd child is currently beginning her treatments, and we would never dream of going anywhere else. Thank you for all the support over the years. We love you guys!!!"
"We chose Advanced Center for Orthodontics because of the caring and friendly staff. They make you feel like you are part of their family when you walk in the door. They are very patient and kind to our children and explain everything that will happen in great detail. I would highly recommend."
"The staff at advanced center for orthodontics always welcomes us with a friendly hello. The entire staff is very warm and caring and goes the extra mile to always smile and make us feel welcome. My son was nervous at first to get braces but he is very happy and looks forward to his visits. Our visits are always on time and any changes we have needed have always been accommodated with scheduling. I highly recommend Dr. Chung to any family needing orthodontics. My sons teeth look great and my younger son will be a patient soon too!"
"We consulted with three different orthodontists over a period of 3 to 4 months but were not really comfortable about going through this ordeal with them. When we met with Dr. Chung all that changed. He was very focused on the problem and laid out a good road map, walking us through every milestone with a lot of clarity. Today after more than 4 years of treatment (Phase 1 & Phase 2) I would say my daughter had the best treatment and we had the most wonderful experience with Dr. Chung and his staff, Sandy, Judy, Judy and Jenna. They are very accommodating and flexible. Dr. Chung was very patient and did whatever it took to achieve the goal. Thank you, Dr. Chung!"
"We came here on the advice of a friend and to be honest we were not sure of what we would find. What we found was a great TEAM of people from the front desk to the techs to Dr. Chung himself. This is a place my daughter actually looks forward going to, and that makes my life so much easier. Hannah comes out happy (though a little sore at times) and I always enjoy my "me" time in the waiting room talking to the wonderful secretaries / front desk help. They make things comfortable on every level. We found a treasure!"
"Both of my children had their orthodontic experience here with Dr. Chung and staff. Besides the fact that their teeth came out beautifully, the thing I appreciate the most is the office staff is friendly, organized, and ON TIME! We never had to wait to get in and sometimes got in a few minutes early! Our experience here was awesome…"
"This is my second child coming to this office. I have only had a pleasant experience. From the time you enter the office you are greeted with a friendly and professional staff. The treatment received is top notch. If you ever need an emergency appointment no problem the staff is wonderful at fitting you in. I would recommend this office to everyone."